63% of technology-leading law firms report their profitability increased over the past year.
In today's rapidly evolving legal landscape, technology plays a pivotal role in shaping the efficiency, productivity and competitiveness of law firms. While a slowing economy may prompt cautious financial decisions, it can also present an opportune moment for law firms to strategically invest in technology.
A tech-forward approach significantly improves law firm profitability. According to the 2022 Wolters Kluwer Future Ready Lawyer report, 63% of technology-leading law firms report their profitability increased over the past year.
We are here to help. The CARET Legal team talks daily with forward-thinking leaders from a variety of law firms. Many are investing in technology now, during a cautious economy, to position their firms for future growth. There are five key areas that firms see as high-priority investments for that future growth.
1. Enhancing Operational Efficiency with Legal Practice Management Software
Investing in a robust legal practice management system can streamline and optimize various aspects of a law firm's operations. An end-to-end practice management system, such as CARET Legal, offers features including case and matter management, document management, calendaring, time tracking and billing. By implementing a centralized and automated system, law firms can reduce administrative tasks, improve collaboration and enhance overall efficiency. This allows lawyers and support staff to focus on delivering high-quality legal services to clients and driving growth.
Integrated practice management systems increase efficiency and productivity by keeping everyone in the firm informed and on task.
2. Streamlining Document Creation and Management with Document Automation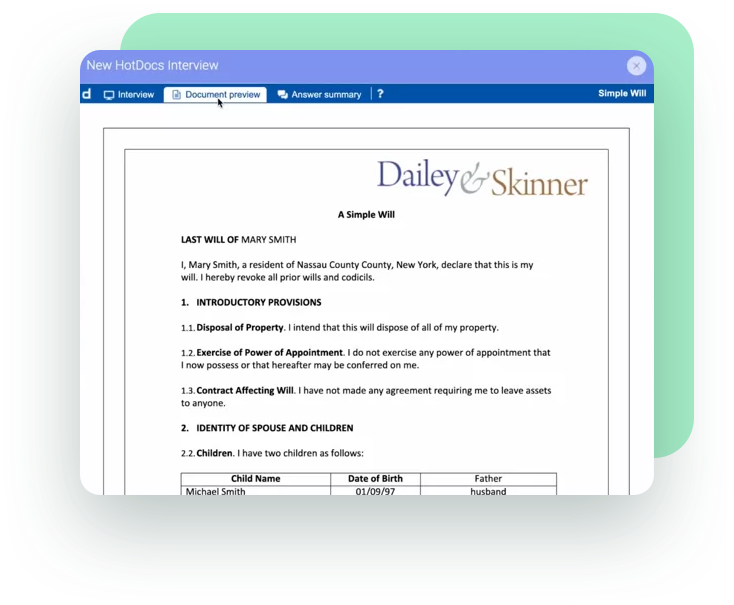 Document automation technology enables law firms to generate accurate legal documents quickly and efficiently. By creating templates for frequently used documents and integrating them with relevant data, law firms can automate the process of drafting contracts, agreements, pleadings and other legal documents. This reduces the risk of errors, enhances consistency and saves an incredible amount of time and manual labor while increasing productivity. Document automation also facilitates version control and simplifies document retrieval, ensuring efficient and accurate document management within the firm.
HotDocs from CARET has automation to empower firms to create the highest-quality work product in a fraction of the time required to manually draft documents.
"HotDocs has allowed us to reduce turnaround time for legal document generation, allowing our attorneys to focus their expertise on addressing legal issues unique to each of our clients."
– Fenwick and West
Read how Fenwick and West streamlined its document drafting workflow.
3. Simplifying Financial Processes with Automated Payments and Billing
Investing in automated payment and billing systems can bring substantial benefits to law firms. By adopting electronic billing systems and automating payment processes, firms can reduce the time and effort spent on manual invoicing, tracking payments and managing client accounts. Improved financial efficiency not only saves time and resources but also enhances cash flow management by accelerating receivables.
With automated payments in CARET Legal, your firm can share invoices with clients with the click of a button. Clients can easily make credit card, ACH or e-check payments through CARET Legal's secure client portal. Portal users can save their credit cards within the platform and set up recurring payments so that you will never have to ask your client for their information ever again.
CBy embracing technology, law firms can enhance operational efficiency, streamline processes, improve client services and adapt to the changing demands of the legal industry.
4. Harnessing the Power of Artificial Intelligence in Legal Research
AI-powered tools can significantly enhance the efficiency and accuracy of legal research for law firms. These tools leverage machine learning algorithms to analyze vast volumes of legal information and provide relevant insights, case law summaries and precedent analysis. By leveraging AI in legal research, law firms can access information more quickly, improve the quality of their legal arguments and make better-informed decisions. This technology empowers lawyers to provide more strategic and comprehensive advice to clients.
While AI is exciting and shows great promise, it's nascent technology. Keep in mind that generative AI tools may not always produce correct results. Attorneys are advised to always review content provided by an AI system to ensure that it meets standards for accuracy, defensibility and security.
5. Prioritizing Data Security and Privacy
In an increasingly digital world, data security and privacy are paramount concerns for law firms. Investing in robust cybersecurity measures, secure cloud storage solutions and data encryption technologies helps protect sensitive client information from unauthorized access or breaches. By safeguarding client data, law firms can build trust and credibility, a crucial aspect of their reputation and client relationships.
When law firms use CARET Legal, all documents, as well as critical data, are encrypted at rest using a multi-iteration 2048-bit process. Certain data such as passwords are also protected with a randomly generated cryptographic salt. CARET follows several policies designed to protect the integrity and privacy of your data including two-factor authentication for sharing access with new external users, stringent password strength requirements and detailed logging of activities both from the infrastructure level as well as within an account.
Learn how CARET helps firms meet clients' digital security expectations.
While a slowing economy may raise concerns about financial investments, law firms can leverage the opportunity to invest strategically in technology. Implementing technologies such as legal practice management systems, document automation, automated payment and billing systems, AI-powered legal research tools and robust cybersecurity measures can position law firms for growth and competitive advantage in the future. By embracing technology, law firms can enhance operational efficiency, streamline processes, improve client services and adapt to the changing demands of the legal industry.
An investment in technology will directly contribute to the future success and sustainability of your law firm. Because we believe in you, CARET Legal invests in building software that makes space for what you do best.
Learn more about end-to-end practice management: Schedule a personal demo of CARET Legal.
Experience our comprehensive practice management solution: Get a free trial of CARET Legal.