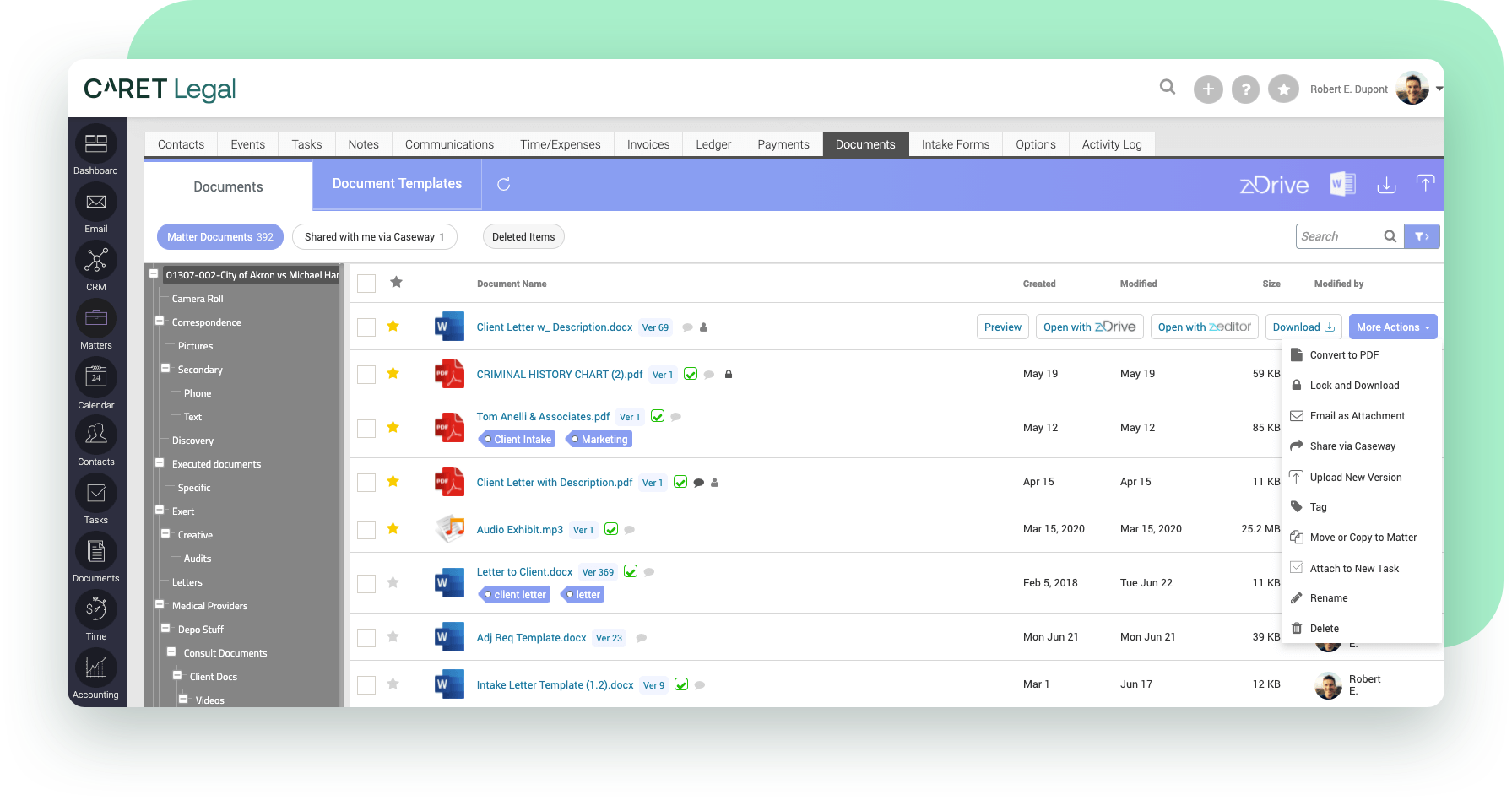 Legal document management software
With our native legal document management system you can efficiently create, manage, store, and safeguard documents associated with each case/matter.
Stay organized
Document management lets you upload documents into folder hierarchies directly from your desktop. Effortlessly edit files and track changes made by team members to collaborate effectively and maintain version control. When documents are finalized, securely share them with clients using the CARET Legal client portal.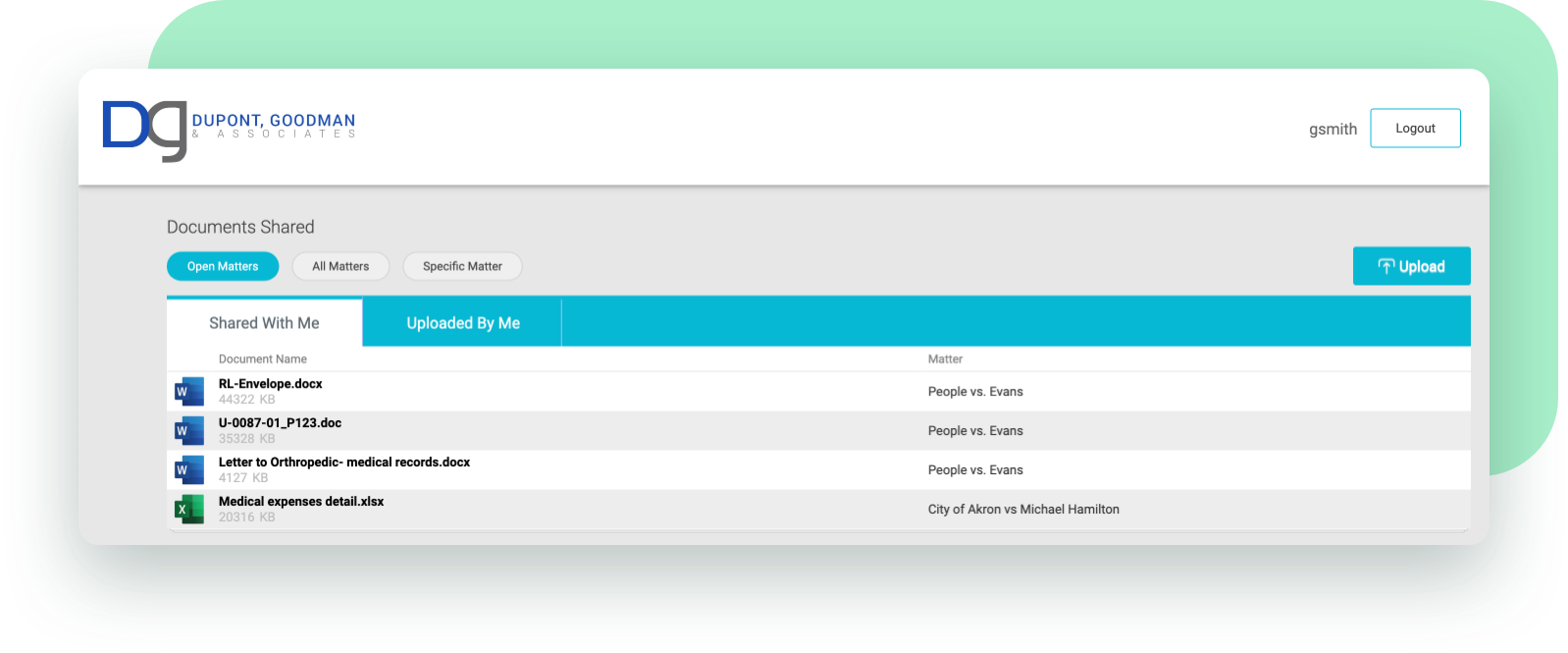 Easily access important information
Advanced document management features allow you to find the information you need quickly and easily. With intelligent in-document search capabilities, you can locate specific details within lengthy documents or even extract text from data tables and handwritten notes with AI-enabled OCR scans.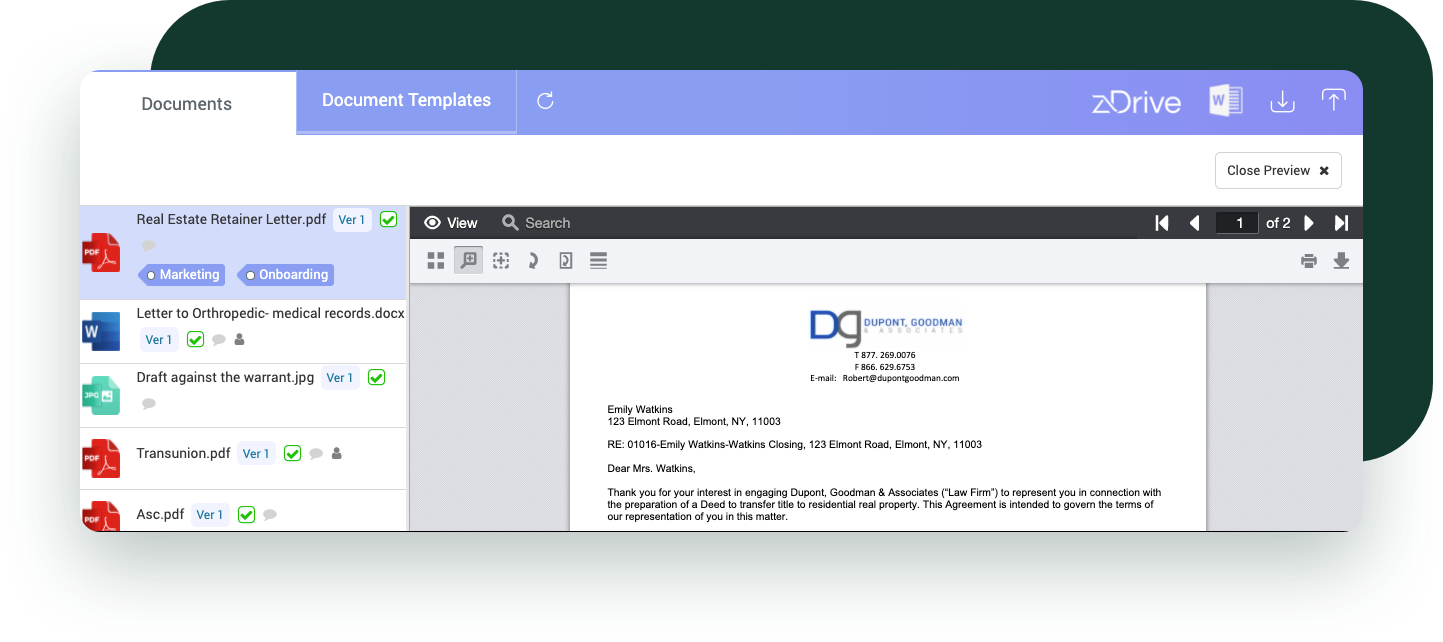 Work seamlessly with other CARET tools
Continue your workflow with seamless integration across Intelligent Email, Dynamic CRM, and Task Management.
Instantly preview files in any format
Lock and tag within files
Unlimited document storage for large documents.
Commenting per document per version
Edit Microsoft Word files within CARET Legal
Automatically create folders for new matters by practice area
Attach your documents to tasks
Eliminate uploading and downloading
Open and save Microsoft Word documents from directly within CARET Legal with the Word Ribbon plugin.
Open matter-related documents stored within CARET
Save new or existing documents directly into matters
Create new folders within any matter
Comment and tag within documents
"CARET Legal has been a game-changer for me when it comes to document management. One of my favorite features is the ability to easily upload documents to a client file. Whether I receive documents from the clerk of court docket or as email attachments, I can quickly and easily transfer them to the appropriate client's file with just a few clicks."
– Verified CARET Legal User on G2
Ready to take your firm further?
Get started with a free trial, or schedule a demo to see how our legal practice management software helps you work smarter and maximize revenue.