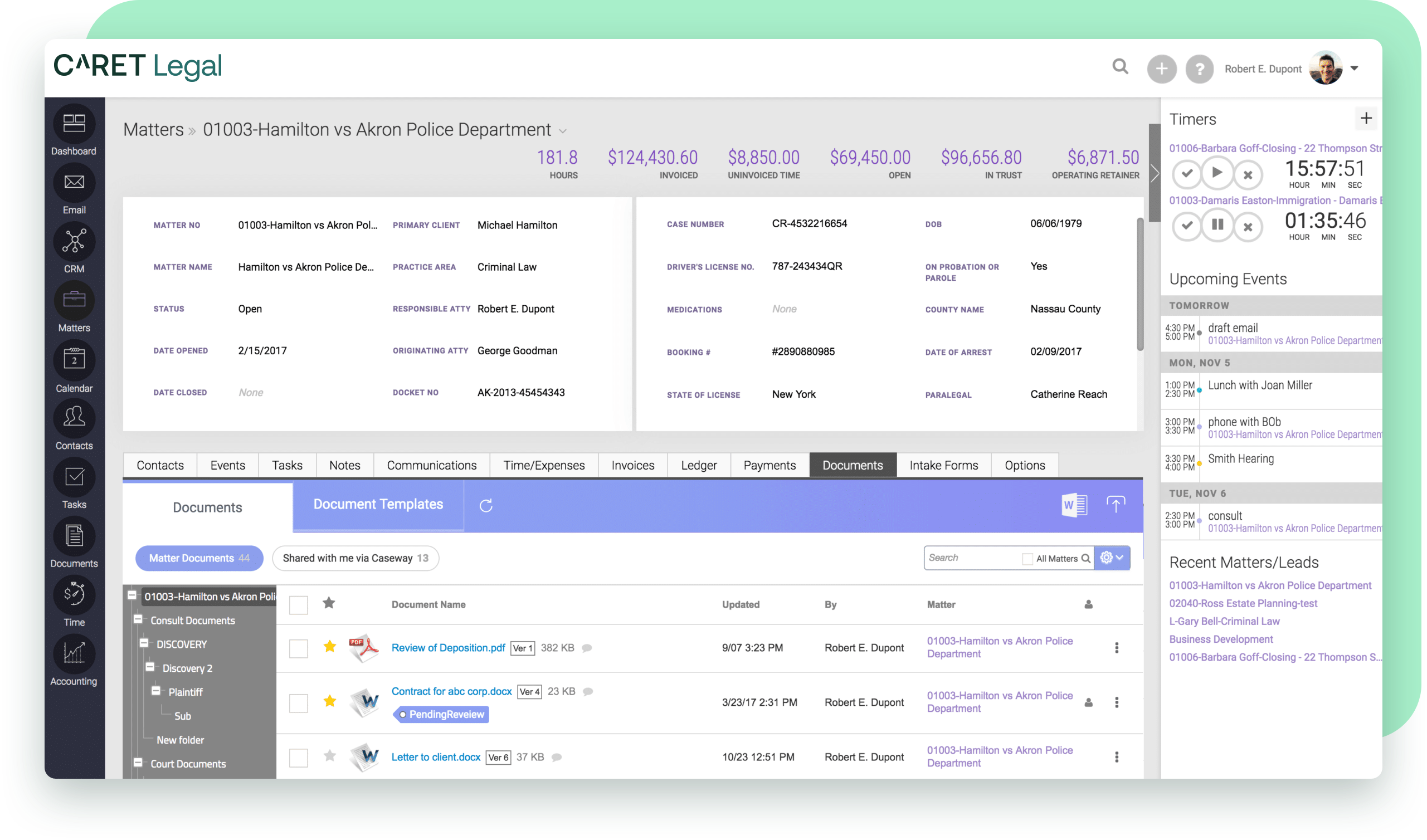 No more matter mishaps
Matter management software tracks all of your cases and matters in one centralized location. Save time and increase productivity with task and deadline management tools and time tracking and billing capabilities. Plus, share documents and communicate with your team and clients directly within the platform, ensuring everyone stays up to date.
Track and manage matters from start to finish
Our legal matter management software gives a bird's eye view of all the elements related to a case, in a single consolidated place. This includes smart statistics that keep you continuously updated and aware of vital information. From contacts, events, time/expenses and invoices, to documents, intake forms and more, you can manage every aspect of a case at a glance, increasing efficiency and keeping you more organized.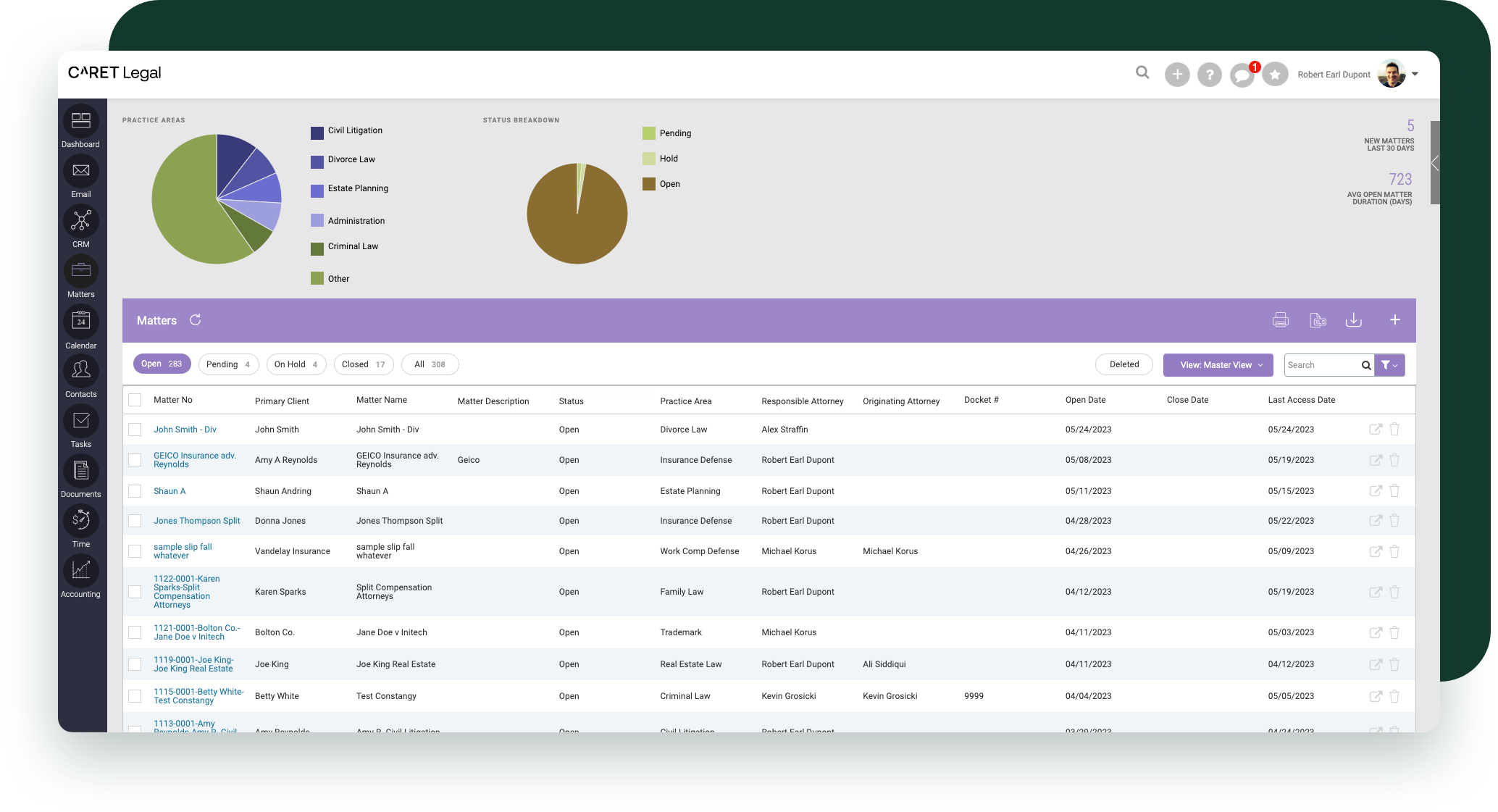 Keep everyone in the loop
All information – from documents and events to tasks and invoices – is saved in one place for everyone to see, enhancing collaboration and visibility. Plus, email communication is saved within the communications section of a matterso all team members are aware and up to speed.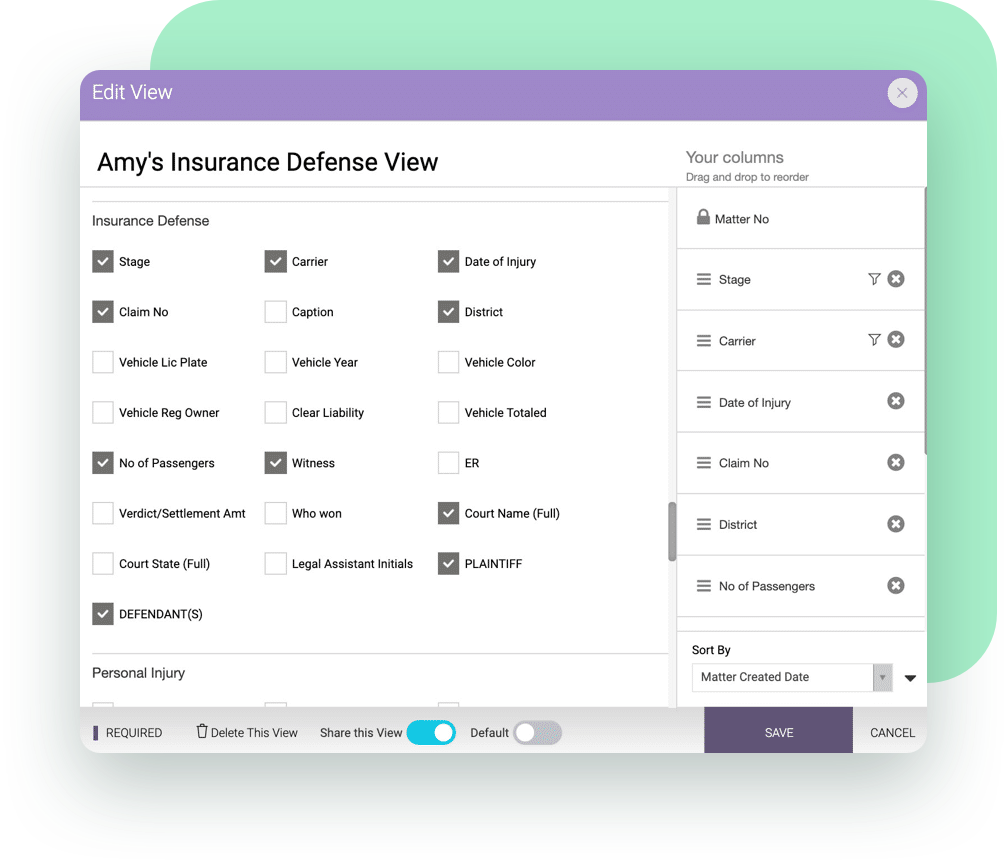 With full customization, you're in charge
Caret Legal's matter management tools are robust and customizable. You can:
Customize by practice area, responsible attorney, open date or other fields so you can dictate exactly what you want to see on your matter dashboard
Implement matter-level access restrictions, allowing you to limit user access to certain sections based on roles and privileges
Set matter fields such as matter name, matter status, date opened, primary clients, responsible/originating/billing attorney, etc.
Create custom fields for each practice area to help with intake forms and document automation
Set matter options such as matter description, referral source, office and client goals
Set billing options such as billing attorney, billing group, notes, billing type, increment, LEDES billing options, and more
Set rate cards to assign predetermined rates for timekeepers to a matter
Keep track of updates with audit trail logging and get access to a log of all activities related to the matter, so everyone is held accountable
"CARET Legal has everything I need – accounting, tracking for billable hours, compact and sleek storage for the firm's contacts, and an intuitive matter management system. I strongly recommend CARET Legal to everyone in need of a case management software. Trust me, once you try it, you'll be wondering how you could ever work without it."
– Bryan Ramos, Cass Ramos Law Firm
Ready to take your firm further?
Get started with a free trial, or schedule a demo to see how our legal practice management software helps you work smarter and maximize revenue.