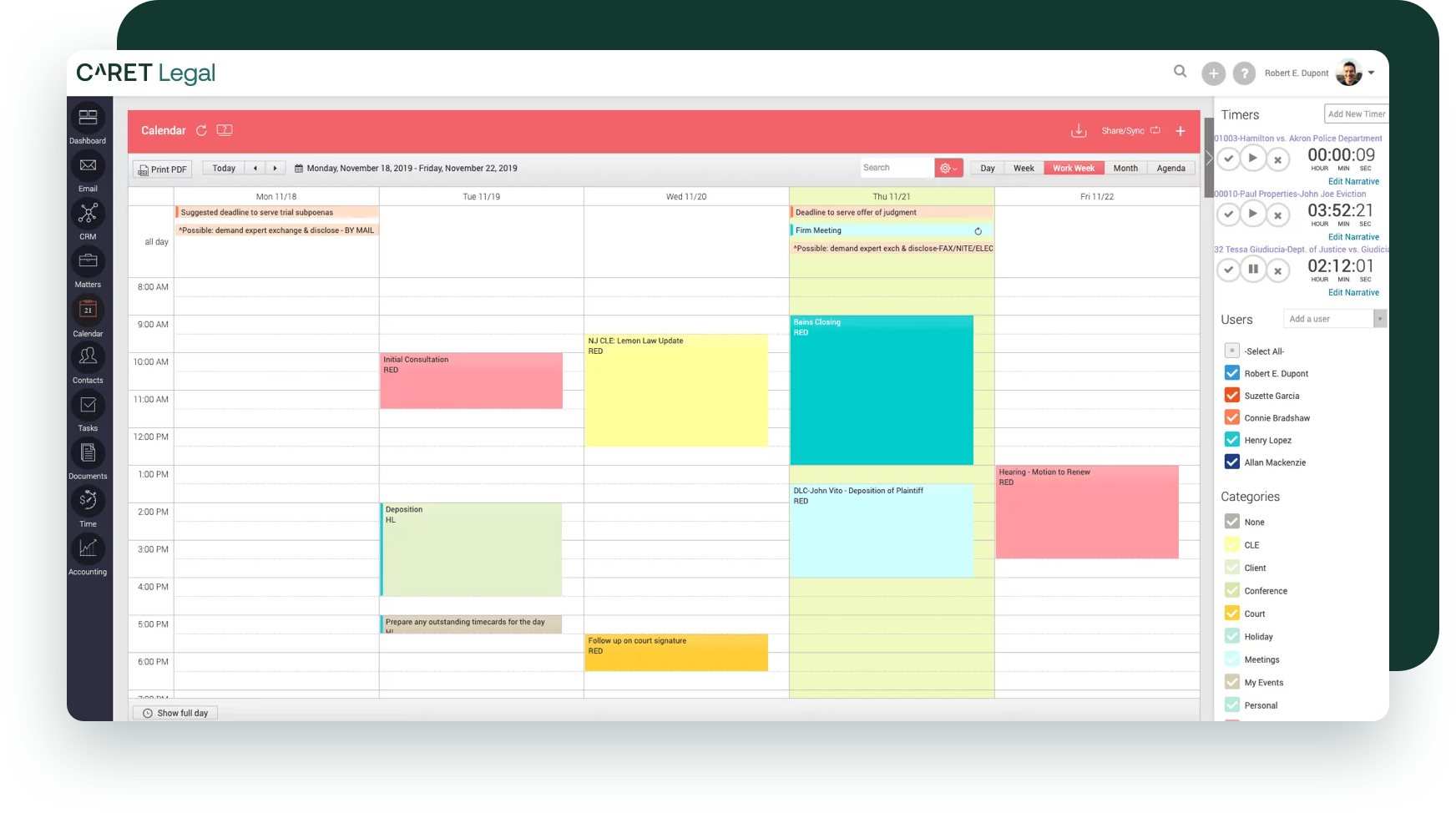 Legal calendaring that does it all
This is the legal calendaring software that keeps everything on track — keeps everyone in the firm on the same page, keeps you on top all your meetings, and tracks everything so you're increasing efficiency and organization, while saving time and money.
Never miss an important deadline
It can be hard to stay on top of all the endless deadlines and appointments, but with an easy-to-use calendar you can access on the go, you'll always be where you need to be.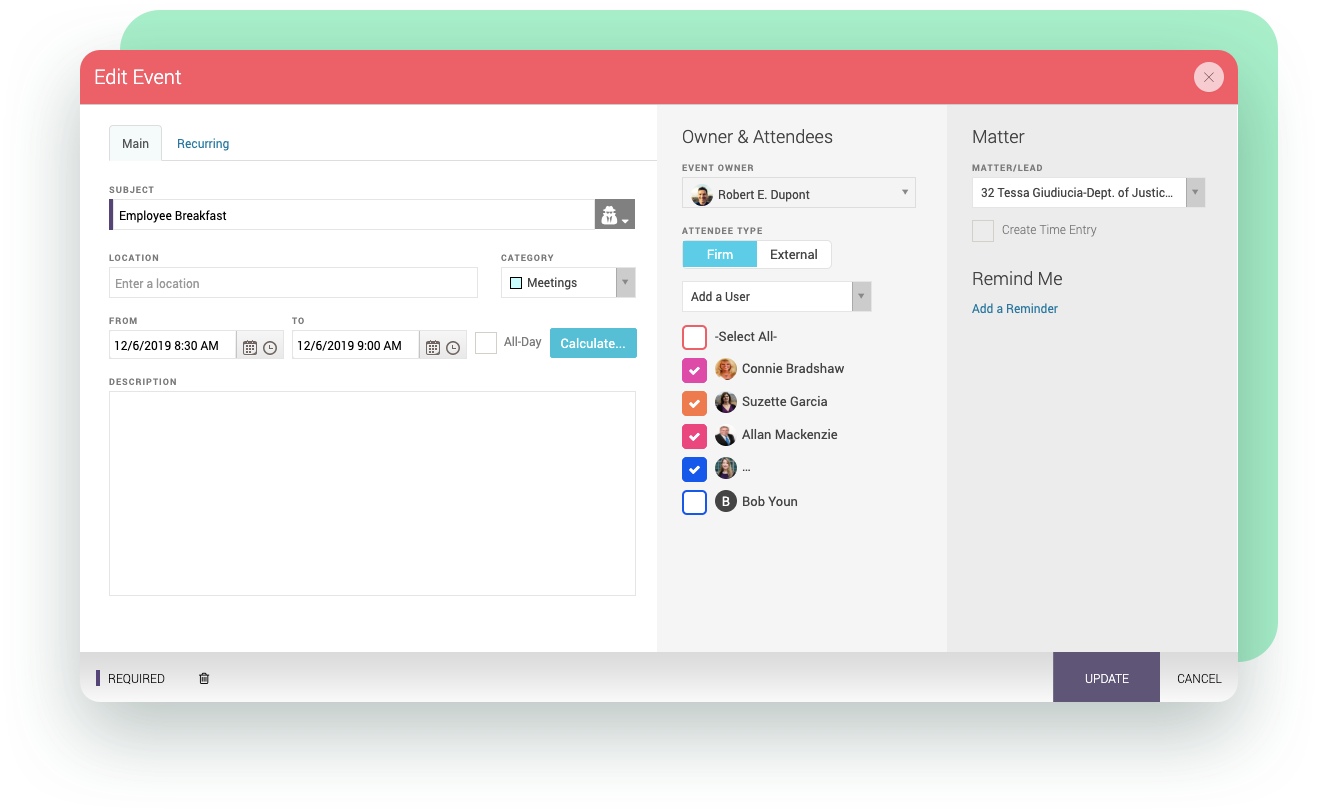 One less thing to worry about
Missed deadlines are the number one cause of malpractice claims against attorneys. When you're calculating deadlines manually, and with so much else to worry about, it's no surprise that these sometimes get missed. By using rules-based calendaring through an integration with LawToolBox, CARET Legal's law firm calendar software makes sure you're on top of your deadlines.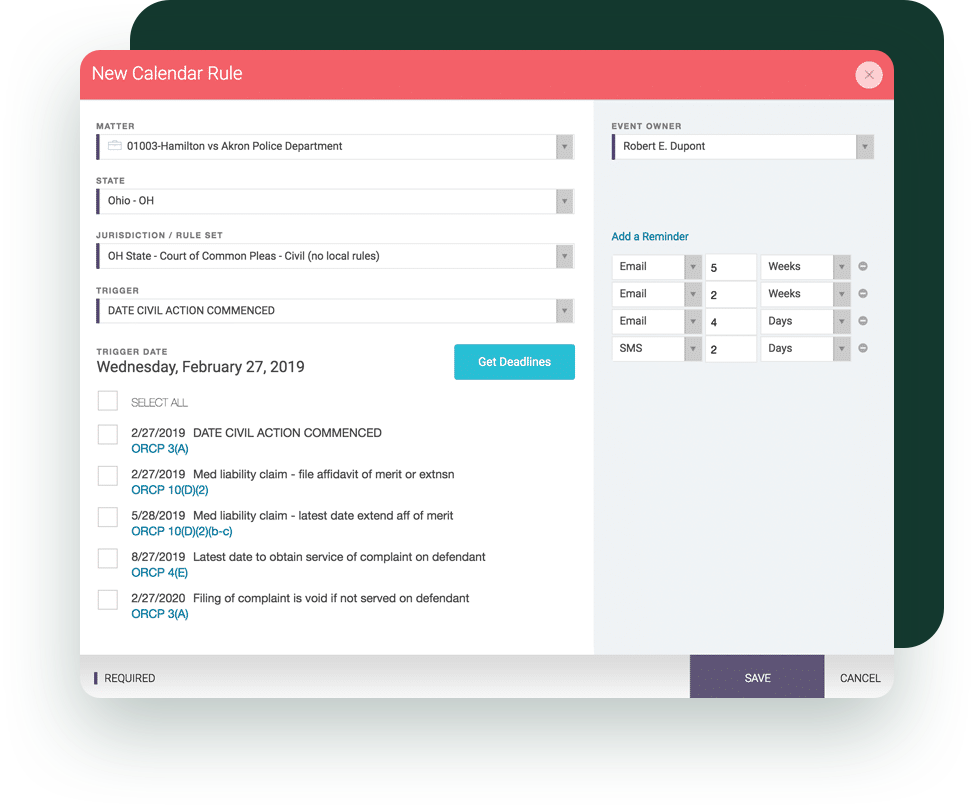 Definitely not your average calendar
Our legal calendaring software helps you keep track of all of your important deadlines, court dates and meetings. Here's a look at some of the robust functionality that you'll find with CARET Legal's case-centered system:
Color-coded, customizable categories
Ability to designate the type of event, including setting private event
Option to mark events as recurring
Option to add event invites via Smart Suggest system to find specific matter-related contacts
Ability to associate events with specific matters
Ability to create time entries automatically
Option to follow and view your team's calendars
Date calculation with options to exclude weekends and federal holidays, and the ability to save calculations as templates
"The calendar sync feature is great. I love that the calendar lets you color categorize events, and even view the calendar based on certain events, and that there's an option to add in calendar rules to automate deadlines and follow-ups. This is honestly the best layout of a calendar I've seen!"
– Miranda Mattia, Goldberg, Miller & Rubin, P.C.
Ready to take your firm further?
Get started with a free trial, or schedule a demo to see how our legal practice management software helps you work smarter and maximize revenue.