Blog
CARET Legal's AI-Enabled "Quick Summary" Feature Maximizes Law Firm Productivity
Leading the way in innovation, at CARET Legal we are constantly exploring new avenues to elevate our product and provide exceptional benefits to law firms. We understand the immense potential of leveraging AI technology to revolutionize the legal industry and have taken an early jump in harnessing that power in a secure, controlled and responsible manner.
We're excited to announce the Beta launch of our AI feature, Quick Summary, in CARET Legal. This feature takes the hassle out of digesting lengthy documents by providing firms with concise, yet comprehensive summaries. With just a quick glance, users can grasp the main points, critical insights, and key takeaways of a variety of documents.
Our platform is built to combine the best of humans and technology, empowering highly skilled and necessary professionals to be the best at what they do, and Quick Summary is a great example of this in action with the ability to do the heavy lifting for law firms, condensing complex information into an easily digestible preview.
Quick Summary offers a wide range of applications for all types of law firms. For example, it can extract and summarize key terms, clauses and obligations from contracts and agreements. It helps legal professionals more quickly identify potential risks, compliance issues or opportunities, enabling a more efficient workflow and ultimately more productive time.
And while this feature never replaces a full review of any legal document, when a user needs to locate a document timely or come up to speed quickly on a set of documents, Quick Summary delivers.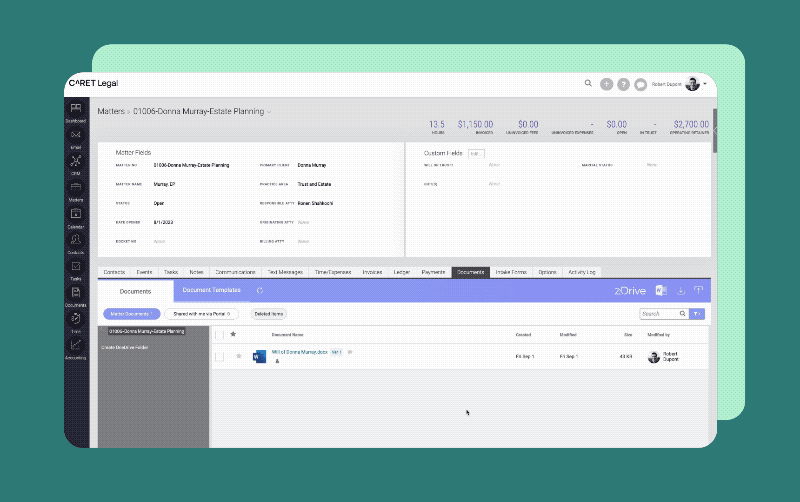 Maximize Productivity. Quick Summary enables a more efficient workflow by generating concise summaries, allowing users to quickly assess the relevance and importance of a document or set of documents.
Transform Document Analysis. Quick Summary instantly distills the essence of a document, ensuring users have all the essential details to navigate complex documents easily and accurately.
This feature is powered by Microsoft's Azure Open AI. This is built in a closed environment, meaning your data isn't exposed outside of CARET Legal. It's AI done right and a great way for all types of law firms to start to explore the benefits AI.
Getting started is easy! Users simply enable the feature in Firm Settings, then select the 'Quick Summary' button from the Documents list from any Matter to generate a short summary instantly.
Keeping Firm & Client Data Safe & Our Commitment to Privacy
We're committed to making sure we're using AI in the best way. That means regularly taking a close look at how we use, or plan to use, AI and the tools that support it. Quick Summary is powered by Microsoft's Azure Open AI and built in a closed environment, meaning client data isn't exposed outside of a firm's instance of CARET Legal.
Quick Summary in CARET Legal is available in Beta now to those subscribed to our Enterprise Plus or Enterprise Advance plans.