A comprehensive outline of the firm's practice management needs and most pressing issues is an effective way to narrow down the many legal software options available.
According to a McKinsey Global Institute report, over 23 percent of a lawyer's work can be handled by technology. In addition, half of all lawyers are already using some form of workflow automation. Legal practice management software is a valuable part of a law firm's toolkit that will save time by automating tedious, low-value tasks, allowing attorneys to focus on substantive legal work instead.
Yet many law firms deal with outdated practice management solutions (or none at all) because the thought of onboarding a platform or transitioning to a new provider is just too overwhelming. As a result, some delay investing in a platform because they don't want to spend the money, think what they have is good enough (even though there are better options available), or don't know what to look for.
Before investing in a legal practice management solution, law firms should define their ideal process, decide if any custom integrations are needed, and clarify who will be responsible for implementing the technology. A comprehensive outline of the firm's practice management needs and most pressing issues is an effective way to narrow down the many legal software options available.
Here are seven questions law firms need to ask themselves when shopping for legal practice management software:
1. What problems do we hope to solve with a legal practice management system?
When it comes to investing in a legal practice management software, many law firms fail to understand the firm's needs and how they will be met by the platform. Here are some considerations to make before switching platforms or shopping for a new one: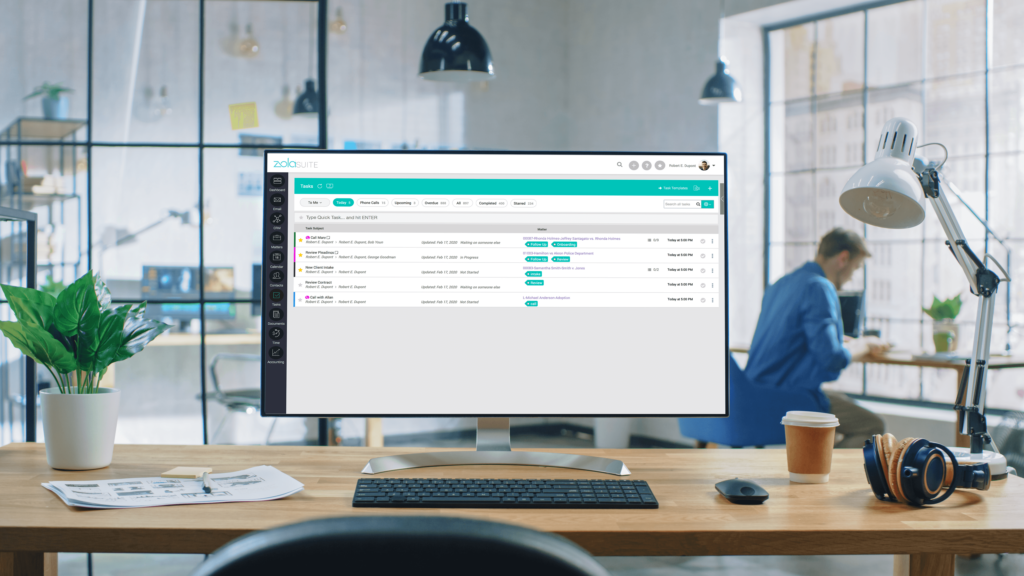 Does our billing system need an update? Are we billing our clients in a way that works for them and, in turn, helps us get paid faster? Legal practice management systems can automate time-consuming billing and accounting tasks, including trust accounting.
Are we staying on top of critical deadlines? What about reminders? Could we save time by automating these tasks? Most legal practice management platforms offer a calendar and scheduling application with two-way integration. Systems that feature a management calendar will keep everyone on the same page by letting you add essential deadlines and meetings to your firm's calendar. Some platforms even offer matter-based calendaring or allow users to schedule personal appointments without revealing specific details.
The right legal practice management solution will help you complete these and other administrative tasks quickly and easily.
2. What kinds of systems are available?
There are two types of legal practice management systems that you can choose from: server-based and cloud-based:
On-Premise. A server-based (on-premise) system is installed onto your firm's local server, and your client information is stored there. The benefit of a server-based system is that all your client information is stored securely at your firm. However, although server-based systems provide a high degree of privacy and control over firm data, this comes at the price of purchasing and maintaining a server. Another disadvantage of this is that if your server goes down, your entire database might potentially be impacted, and as a result, your information might be compromised.
Cloud-based. With a cloud-based system, your information is stored and accessed online through a cloud-based server, meaning the company provides the server, located offsite, as a service. Some advantages of cloud-based systems are that they are easy to use, can be accessed from anywhere with internet access, and are usually more affordable than server-based systems. In addition, some solutions provide a dedicated mobile app that can access, edit, and share the information stored in the firm's practice management platform. Web-based platforms are considered as secure, or even more secure, than server-based systems, although they may or may not have the same functionality.
There are pros and cons to both server-based and cloud-based practice management systems, and to make the best choice, you will need to consider what matters most to your law firm. Are you ready and able to maintain your own IT infrastructure? It's also important to consider how much legal work is done in the office at your firm. More and more frequently, it is now being done remotely. Technology in the courtroom has become much more common in the last few years. Decide which type of system will best meet your needs, now and in the future.
3. What are the costs associated with legal practice management software?
Although premise-based platforms are attractive to some firms, only large organizations can often justify the costs of maintaining an on-premise infrastructure that will likely need to be replaced every few years. In addition, because servers are constantly running, they require a large amount of electricity, hardware expenditures, and an experienced technical staff to oversee security updates and monitor data back-up. However, there are tax savings associated with the hardware and staffing required to maintain on-premises systems if they are categorized as capital expenditures.
Most cloud-based systems are subscription-based with pay-as-you-go, per-user options. They frequently offer tiered pricing alternatives that allow law firms to align their needs and usage with the costs and adjust their plans to fit their current needs. Capital expenditures related to cloud-based platforms are usually extremely low. With no hardware necessary, no upfront licensing fees, no physical infrastructure for servers required, and no need to hire IT staff to maintain the network, a cloud-based platform can be an affordable option for law firms.
However, as the total amount of storage required increases, so will the cost, and firms may spend more money over the lifetime of their subscription. Also, depending on the firm's allocated budget for the services, limits may be placed on the amount of storage available.
Overall, most firms find cost savings if they choose cloud-based rather than server-based systems. However, if a firm fails to choose a reliable cloud provider, it might experience an outage leading to downtime that costs the business time and money.
It's critical to look at practice management systems as more than just one piece of software.
4. How will a particular practice management system interact with the other software we use in the firm?
It's critical to look at practice management systems as more than just one piece of software. Modern law firms usually incorporate several technology platforms into their workflows, which can cause issues when each system contains a database of information that must be manually recorded and transferred to another place. Even with the best platforms in place, this lack of automation is frequently inefficient, error-prone, and time-consuming.
However, many legal practice management softwares allow firms to integrate all their existing platforms into a single system. A fully integrated system can automatically retrieve data from different places and keep it updated in a central location, helping to ensure accuracy. Before you decide on a practice management system, you should ensure that existing services utilized by the firm are supported.
Generally, law firms benefit from a practice management system that integrates well with the technology they currently use and want to continue using, now and in the future.
5. Client communication is a priority in our firm. Do practice management systems offer the ability for clients to request meetings and get status on a matter?
Many platforms offer client portals, which makes collaborating with their attorneys easy. These client management portals will securely share files, control document access, sync case activities across all devices, and manage file versions so that everyone can access the most up-to-date documents, actions, and assignments. In addition, clients can scan documents to be shared with the firm into their portal with some software options, without ever leaving the mobile app.
Some systems even track and timestamp user activity, making it easy to see if a client has read an important document. Clients can pay legal bills through these portals in a matter of seconds by taking a photo of the credit card they would like to use to pay the invoice. The most feature-rich options offer web-based portals with custom login pages that include a firm's branding, imagery, and colors to continuously remind clients that your firm is efficient and accessible to them.
6. If we add a practice management system (or switch to a new one), what kind of time commitment are we looking at for onboarding?
It can be a huge undertaking when a law firm shifts from paper files to a practice management system, or switches from one system to another. Although most systems offer customer support to ease the transition, the level of support differs among providers. In addition, data conversion, training, and implementation can be completed in stages to avoid work and cash flow disruption or done all at once if you are in a hurry to make the change. But either way, you'll need to discuss who needs to be involved, the time it will take, the process required, and the cost (if any), with the provider you choose.
Most legal practice management systems include customer service in the package. This can be especially helpful during the transition or anytime you encounter an issue. Some offer a personal onboarding process, unlimited training and support, and will help you import data to make the transition as smooth as possible, at no extra charge.
7. Can we test out a system before we decide to buy?
Almost all legal practice management software providers offer a free or refundable trial period. Take advantage of this opportunity to narrow your list of favorites down to a few strong contenders. Use this trial period to explore the software and make sure it's compatible with workflows you typically use. You can set up test accounts or run an actual matter through as a test to see how easy the platform is to navigate.
Final Thoughts
Once you've explored all the legal practice management systems out there and found the one that makes the most sense for your firm, the next step is implementation. Learn more about the legal practice management selection process in our whitepaper.