Built-in business accounting
Increase efficiency with our built-in business accounting in a single, synergistic package. Automate accounting compliance and take advantage of powerful matter-centric billing and legal accounting capabilities.
Enforce accounting best practices
Improve compliance with features and permissions that safeguard against retroactive changes to closed accounting periods. Quickly gain accurate insight into different billing cycles, and easily prepare end-of-year statements. Align firm processes and workflows to raise intrafirm accounting standards and protect your books while saving time.

Manage Retainer and Trust Funds
Stay accurate with 3-way reconciliation reporting on trust accounts. Stay efficient and save time with the ability to batch apply trust funds. And stay in the know with notifications for when retainers fall below designated balances.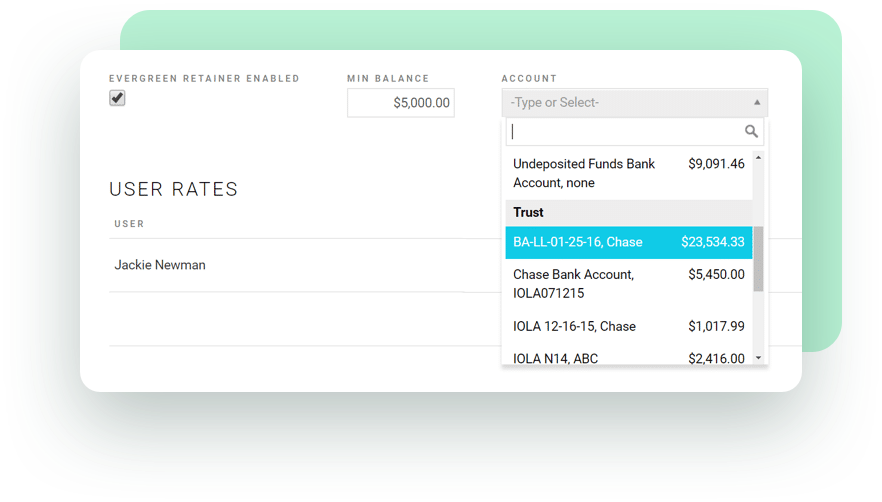 Accuracy matters
Draw checks only from the trust account that prohibits selecting the operating account
Only matters with a positive balance are displayed
No overdrawing on a matter's ledger balance
Get a bird's eye view
Track firm and third-party expenses and manage settlement allocations
Download bank and credit card activity from over 5000 institutions
Generate settlement memos and value reports
Gain visibility
Get account summaries that include subledger detail for each matter
LEDES budgeting allows firms to utilize LEDES codes within a LEDES-based matter
Firms see billed amounts against the total budget to track progress
Issue checks, create journal entries and batch-apply payments
Advanced compensation reports show billed, collected, responsible and originating lawyer
"The full-featured accounting, which allowed us to ditch Quickbooks, is why our firm chose CARET Legal. We handle a lot of criminal defense with clients on payments plans, so having integrated accounting allows us to see our updated trust account balances in real time, which is a godsend when handling those types of cases."
– Matthew Terry, Miller and Terry, Attorneys at Law
Ready to take your firm further?
Get started with a free trial, or schedule a demo to see how our legal practice management software helps you work smarter and maximize revenue.