It's official —CARET Legal has released its NetDocuments integration!
With this new partnership, users can access documents stored within NetDocuments right from CARET Legal, eliminating the need to hop between platforms. Here's how it works:
When users have a NetDocuments account, they can easily sign in from CARET Legal. Upon activation, CARET Legal's native DMS will be removed from the account so there's no confusion as to where documents should be saved.
Once logged in to NetDocuments through CARET Legal, users will be able to access matter-related documents and workspaces directly in the matter or by clicking on the NetDocuments icon in the navigation menu.
When a user is in the NetDocuments section, the platform behaves exactly as it does when you log into NetDocuments through a browser. Users can upload/download document, perform advanced searches and access all of their workspaces.
Permissions from NetDocuments are carried over to CARET Legal. So if a user doesn't have access to a matter's documents in NetDocuments, he or she won't have access to it in CARET Legal.
While working in NetDocuments from CARET Legal, users can also take advantage of CARET Legal's case management tools like time-tracking. With this integration, users really do get the best of both worlds — or should we say platforms?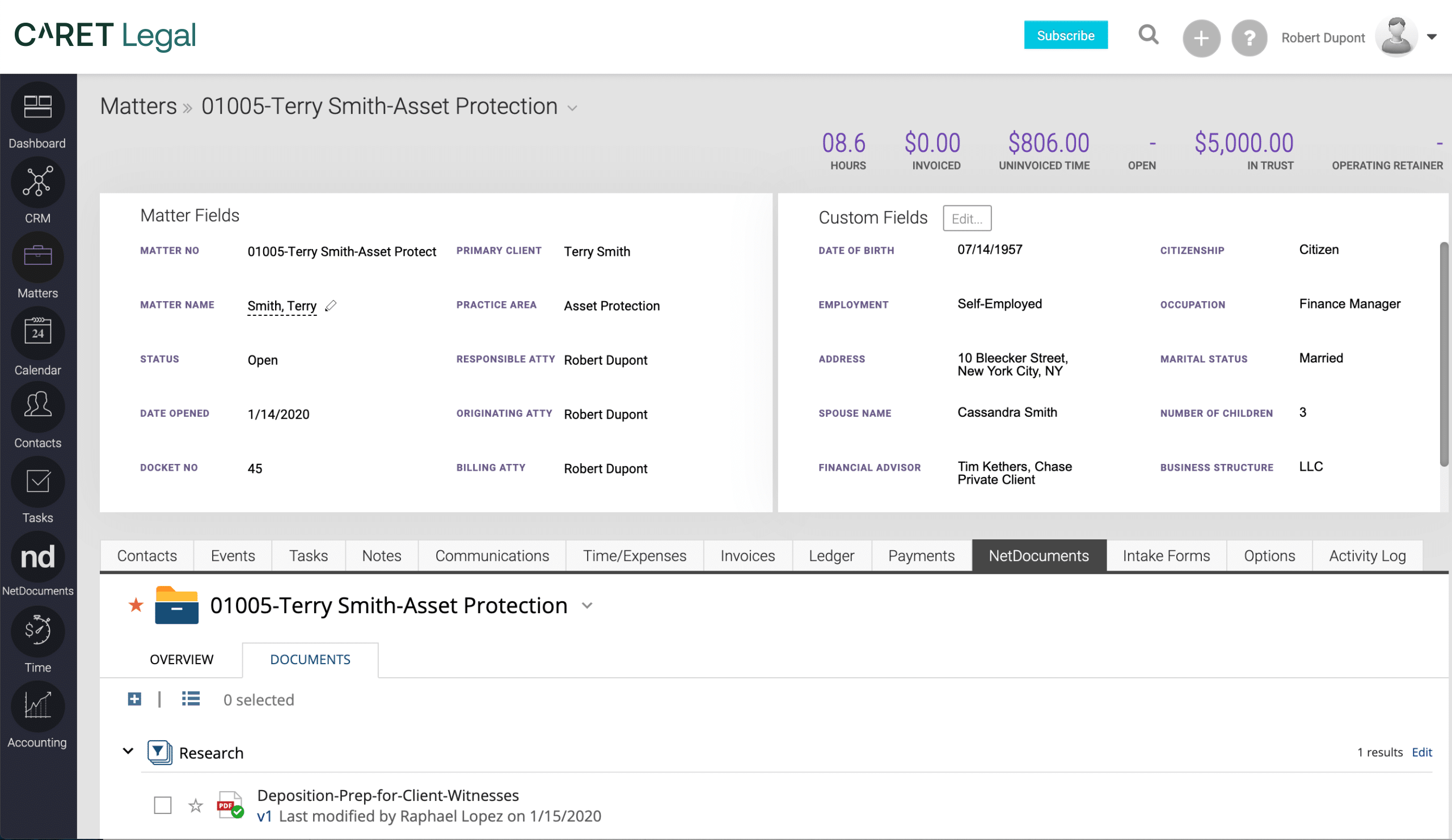 Why the Integration?
If you're familiar with CARET Legal, you probably already know that the platform doesn't have many integrations. In fact, it's one of the many ways in which we are different from other LPM competitors; we are not integration-reliant. Instead, our legal practice management software takes a "built-in, not tacked on" approach and is committed to providing our clients with a single source of truth to empower them to make data-driven decisions.
So, with this news, you're probably asking yourself, "why NetDocuments?"
We don't take integration decisions lightly and in considering partners, we ask ourselves three key questions:
Will the integration help our clients be more efficient?
Does the platform do something CARET Legal doesn't do?
Does the company share our commitment to innovation and delivering stellar customer service?
With NetDocuments, the answer to all three of the above questions is a resounding yes. (Detailed responses below.)
Many of our clients already use NetDocuments and love working with the platform. It's not efficient for these teams to constantly go between the two platforms they rely on most during the day. Because at CARET Legal we don't tolerate inefficiencies, we set out to fix it. This integration does just that.
CARET Legal has a native document management system, but it is in no way as robust as NetDocuments. For firms that require sophisticated document management and governance, a robust solution like NetDocuments is preferred.
NetDocuments was the first entirely cloud-based DMS to serve the legal vertical. They continue to push the envelope on innovation while delivering world-class customer service. In a lot of ways, their culture is a reflection of ours at CARET Legal, so it felt only appropriate to officially add them to the CARET Legal family.
To learn more about the integration and NetDocuments, join us and the NetDocuments team for a live webinar. Register Here