Firms that cling to outdated or inefficient workflows often miss out on many benefits that can save time and money.
Change is never easy, but often necessary to stay relevant in today's fast-paced environment. Firms should regularly review how things are done and look for ways to improve. An especially good time to do this is when implementing new legal practice management (LPM) software. Firms that cling to outdated or inefficient workflows often miss out on many benefits that can save time and money.
How do you get started?
When making the switch to a new practice management solution, you shouldn't just consider what the firm does and how it does it, but also identify areas for improvement.
I often suggest considering the question, what do we currently do that makes us think, "there must be a better way?" Recently, I posed this question to a firm that was taking two weeks to generate bills because they were manually entering data into the client's required electronic legal billing system. They often wondered if there was an easier way… and there was! With their new software, they were able to create formatted files that could be uploaded directly, reducing the billing cycle to 2 days.
What workflows exist in your firm?
Intake

Gathering information about a prospect
Setting an initial appointment
Sending a contract
Getting a retainer
Follow up

Client Service

Creating documents
Scheduling meetings
Communicating with the client

Administration

Tracking time
Billing
Collections
Sharing information internally
Before evaluating new practice management software, be sure to make a list of these workflows and create a detailed outline of each one, noting those "there must be a better way" steps in each process. In researching solutions, keep these desired process improvements in mind. Below you'll find an excerpt of an intake process that has been mapped out with friction points identified. You'll want to be this granular as you analyze the different processes in your firm.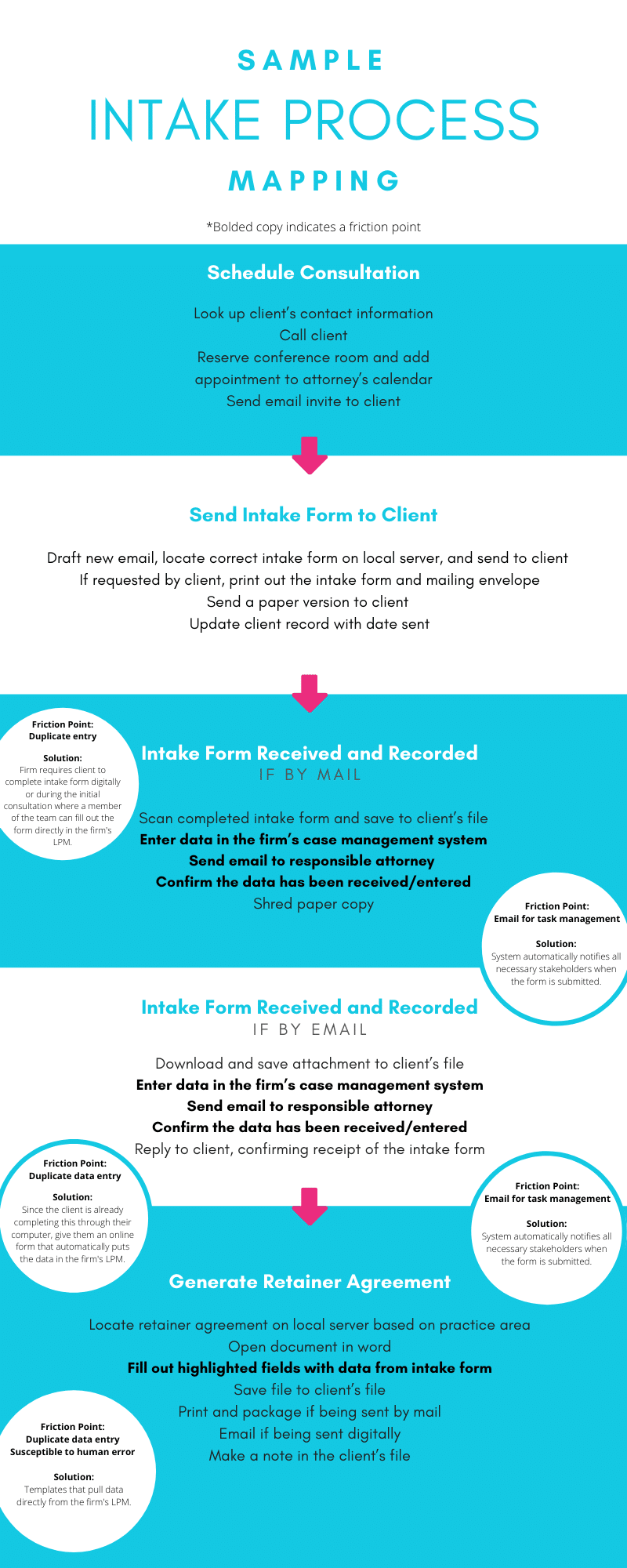 As you implement the new software, it can be tempting to fall back to familiar workflows, but I challenge you to dig into the features and think about how you can use them to alleviate frustrations from previous workarounds. When getting trained on a new LPM, don't just ask "How can we use the tool as we used to? " but consider how you can do things better to increase productivity. What tools and features are now available that you didn't have before? A seasoned trainer should be able to share tips and tricks to maximize efficiency.
There's rarely one way to do something. Finding the right process for your firm that fully leverages your firm's technology and team requires open communication and you may ultimately need a fresh perspective to challenge your operation's status quo. Working with a consultant can help your firm get the most value from your new solution.
Of course it may be tempting to revert to old habits at the beginning, but if you push and persevere, making changes becomes easier and soon you will be reaping the rewards — more time, greater efficiency, increased productivity, and a significant return on your investment!
Written by CARET Legal partner, Caren Schwartz. Caren has been serving the technology needs of the legal industry for almost 30 years and leads the accounting services team at 3545 Consulting – Global. Caren's key focus is back office services, analytics and best practices for law firms. Caren is the author of QuickBooks for Law Firms.