There was a time when new technology and law firms did not play nice together. However, that's no longer the case. With the advent of tools like legal practice management software, document management platforms, and electronic payment processing, law practices are embracing technology and entering a new era of efficiency and profit.
The state of technology in law firms today
Non-digitized law firms – laggards, often relying on manual processes and paper-based workflows. Most firms exist somewhere in the middle, having adopted select tools to increase efficiencies while still trying to manage a variety of legacy systems and documents trapped in different silos.
The remote first requirements in the last several years changed the game for almost every law firm. During this time, many firms saw their digital needs escalate abruptly. Firms needed to collaborate virtually, build client relationships at a distance, and share and secure resources with staff in dispersed locations — without a grace period to master a learning curve.
The outcome? The landscape of technology and law firms changed dramatically. Law firms adapted, with tenacity and technology. That's the story of a recent survey, which find out how they embraced digital technology transformation. But many firms found their operational journey unlocked unforeseen benefits. Call it The Remote Advantage — technology transformation that put many law firms on the path to a more productive and more profitable future.
Survival or evolution
Take a look at a real-time snapshot of how one family law firm adjusted to new routines and new client dynamics in a new operational environment.
Robert Noone Legal Services provides families in West Virginia and Alabama with adoption-related legal services. Leveraging CARET Legal, the firm greatly improved productivity and efficiency.
Automation
The client experience upgraded enormously when the firm automated the client intake process. Clients, who may be unable to meet their attorney in person, can complete an intake form with all known details about the adoption on a secure site.
Communication
Virtual communications are more important than ever. Using CARET Legal, the firm gained the ability to schedule calls and meetings, see details on the client's case while speaking with them on the phone, and capture call notes for future reference.
Clients also appreciate the streamlined communications — quickly and easily uploading documents and sending private messages to the attorney via the client portal.

Survey takeaways: Focus on digital technology transformation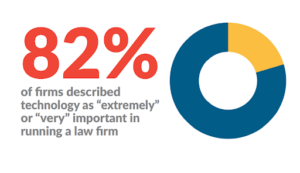 One common theme dominated the survey results — digital technology transformation. 82% of firms described technology as "extremely" or "very" important in running a law firm during the pandemic and beyond.
Some firms were not prepared to shift into full-time remote work. Training attorneys and support staff to deliver personalized service in a virtual client relationship or ensuring that everyone in the firm could access the right resources from home motivated firms to find, adopt and use the right tools. Other firms were already leveraging legal technology to automate workflows and keep their attorneys focused on practicing law rather than administration.
Law firms that already embraced technology were comfortable working remotely, but still learned valuable lessons on where they needed to improve their operations and how they could evolve beyond basic digitization to thrive in a tech-driven future. In the end, firms that committed to technology transformation experienced the dual advantage of surviving the pandemic and strengthening their position for the future. These firms learned how to build a more agile and collaborative environment while identifying productivity bottlenecks. Many spotted the need to transition to a secure cloud now instead of waiting to do so later — thereby strengthening their market position in the future.
Technology and law firms: Preferences and practices

The survey responses provided a detailed explanation of which tools law firms found valuable to navigate the pandemic and beyond.
Certain practice areas are more tech-friendly than others
Bankruptcy attorneys considered technology most important, while estates/trusts attorneys relied on it the least. This may be due to the high client caseload experienced by bankruptcy attorneys in the pandemic.
Most law firms do not employ full-time IT help to manage their technology.
The largest cohort (28%) reported zero full-time IT staff: the next largest group (19%) employed just one IT employee. It is clear that law firms need legal practice management software and technology platforms that are intuitive to use and include excellent tech support.
What challenges & opportunities are there with technology and law firms?
Despite the rising legal technology adoption, plenty of firms noted their own room for improvement as they struggled with the following challenges:
Crossing the digital divide.
Lawyers are typically slow technology adopters, and many still depend on manual processes even as other industries accelerate into the digital age. Cost, training, and daily disruption can have an intense impact on a small but busy firm – yet they are aware they may lose their clientele if they don't embrace digital conveniences.
Given that few small firms have an IT expert on staff, these firms must find a user-friendly and low-maintenance solution that lets them focus on practicing law instead of troubleshooting IT issues. To solve this issue, many are turning to legal practice management software that offers virtualization and cloud options that can help support a distributed workforce with minimal IT resources.
Compliance confusion and weak security practices.
The survey demonstrated that many firms are not adequately protecting their client data or their own reputation. 42% of firms do not bother to control access to sensitive data by role or responsibility level, which heightens their cybersecurity risk. 72% still use unencrypted email to send and receive sensitive data, which unnecessarily increases malpractice liability.
When it comes to compliance regulations like CCPA, GDPR and other data privacy laws, 54% are confused about compliance regulations — and they are unsure how their data is or should be collected, stored, and used. This can be an issue with the ad hoc arrangements made during lockdown, when firms copied data and documents onto local machines as needed. These firms must adopt a consistent protocol for storing, protecting, and controlling access to information.
Limited reporting and visibility.
One surprising result was the low adoption (33%) of dashboard and reporting tools. Without reporting, firms lack insight into staff productivity, cashflow, workflow bottlenecks, new client acquisition and other factors – which means they may be repeating mistakes instead of correcting them. Reporting and analytics tools help firms make informed decisions quickly instead of waiting for a quarterly or monthly report.
Communication obstacles.
Another survey surprise: only 47% of firms used the benefits of collaborative messaging platforms like Slack or Microsoft Teams. In an era where "video is the new phone," firms are squandering a valuable productivity tool. Instead of staff waiting for email responses or forwarded documents, they can tap into a centralized resource for immediately communicating, sharing, and storing information. Secure video conferences and virtual meetings also provide an excellent channel for stronger client relationships and colleague collaboration.