Automating the legal client intake process — everything from onboarding to invoice — gives your firm the best opportunity to thrive. Those who do not embrace legal technology will soon struggle to survive. Firms that become operationally efficient, work smarter, and deliver superior client services will outpace those who continue to rely on paper-based methods, no matter the firm's size. Let's look at how practice management technology explicitly helps firms create the perfect case.
How tech-savvy attorneys build the perfect case starting with client intake
As an attorney, you know that building the perfect case for your client requires you to:
Know what your client wants

Apply the legal precedents and jurisdictional nuances

Identify what you need to prove

Decide how you are going to prove it
The most compelling argument can still end in defeat if the facts are not presented with specificity or if a critical deadline is missing in the process. Yet, being ultra-organized with cases and matters can be time-consuming. So how can you best optimize your legal superpowers without drowning in tedious minutia? It all starts with the client intake process.
Optimize the new client intake form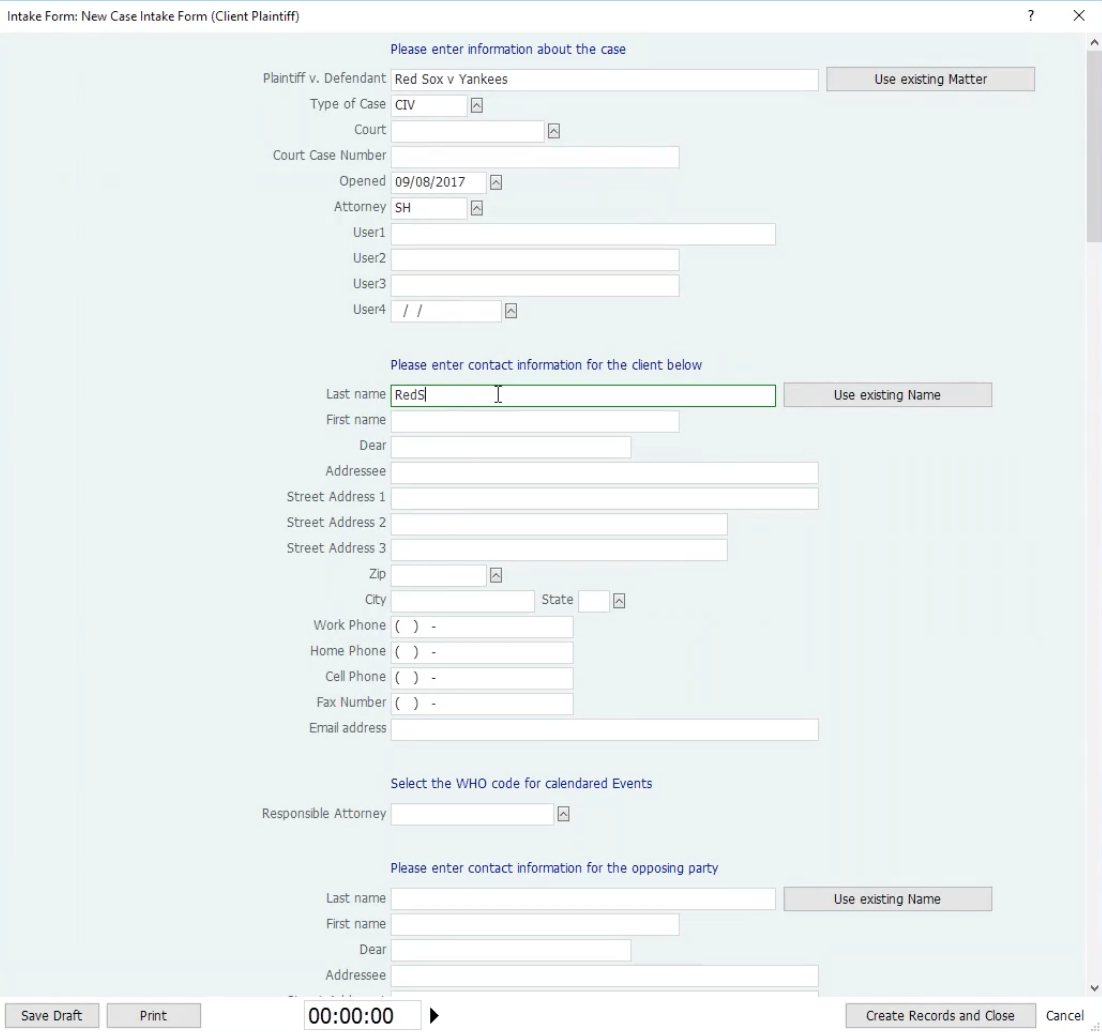 Modern attorneys recognize that although every case or matter is different, the client intake process by which they approach each new case is similar enough that it's repeatable and thereby able to be automated.
Currently, to create your perfect case, you begin with your law firm client intake form. Maybe you use a new client checklist or a set of client intake interview questions. You gather the basics, like client contact information, opposing party information, case-specific forms, and billing details. You probably need to loop in others at your firm on the details, and at the very least, need to set some follow-up dates and immediate next steps.
When you rely on a practice management solution, client intake is simplified. Your workflow starts with a client intake form that's built from a template. You select the type of case or matter and collect the contact information you need to get the case started.
But that's only the beginning. Since that one legal client intake form template lets you select the type of case or matter, it triggers an automated workflow that creates all the links you need to get your perfect case going. Links for plaintiffs. Links to the billing department. Plus links to other stakeholders you deem essential to be a part of your perfect case.
Get started, but don't reinvent the wheel
Your value as an attorney is based on your ability to prove your client's case within the constructs of the law. That's where you're most effective. The least effective use of your time is reinventing the wheel, chasing down misplaced case information, or trying to connect research, schedule key dates, and assign tasks. You're optimizing your value when you're focused on case strategy, not on scheduling details.
After the initial law firm client intake form is completed, you've got subsequent action items to handle, like:
Deciding and connecting with those who need to stay in the loop

Writing up a confirmation letter

Drafting a fee contract

Connecting with billing
Without automation, you must tediously cut and paste documents, email billing, legal assistants, partners, and staff on what's next, and set reminders for follow-up on the next steps.
"The first rule of any technology used in business is that automation applied to an efficient operation will magnify the efficiency." — Bill Gates
Of course, all these steps are essential, but they're not what you're really getting paid to do. You have yet to use your superpower because you're mired in tactical necessities. Techno-savvy attorneys understand this and have turned to automation for redundant case activities.
Automate what's next
Think about how much time you spend assigning all those action items. Now imagine it all getting done with a couple of clicks right when you complete a pre-configured client intake form.
That's how forward-thinking attorneys create the perfect case. They automatically create calendar events with every intake form, such as sending a pre-generated confirmation letter 7 days later, and a pre-drafted fee contract 7 days after that. Billing gets an automatic notice of the new case. And so do all other key members of the firm.
Every task that you typically do manually can be automated to your liking, specific to types of cases or matters. And with all that out of the way, you can turn your attention to building a winning case for your client.
Different flows for different cases
Tech-savvy attorneys don't work on just one kind of case. So different cases need different workflows. Personal injury. Divorce. Estate planning. Immigration, to name a few. They don't start from scratch. They use pre-built workflow frameworks that they can customize to meet their specific firm needs. But that customization only happens once. Then they can use it over and over again.
Billing choices
Different clients are on different billing agreements. Hourly. Flat fee. Contingency. And at different rates. Attorneys using automation can let billing know the plan on the client intake form. They can also adjust it later if things change. It's a few clicks, and it keeps their perfect case on track.
What about the outliers?
Every rule has exceptions. And next-generation attorneys know that their workflows can be tweaked for the outlier case. Making a couple of minor tweaks is still so much better than creating entire cases manually.
The case for connections.
Modern attorneys enjoy the benefits of automating redundant tasks. Their standard correspondence forms are auto-populated and sent on a schedule, as outlined in the workflow. They and their staff are automatically reminded of every key deadline. They also have the benefit of all case-related materials being connected.
Imagine your perfect case
Imagine every part of every case connected, from legal research to billing to depositions to court filings. Imagine opening a case and finding what you need at the touch of a button. That's the superpower of technology. And it's the perfect sidekick to your superpower as an attorney. Together, you'd be unstoppable.
Your perfect case is waiting to be created, the client intake process is just the start. Get briefed on the only legal practice management software built by lawyers, so that you can choose the version best suited for your firm.
Or, jump right in to find your perfect superpower sidekick here.