We are full speed ahead on 2023 goals, and 2022 is already in the rearview mirror. What a year it was! As a team we looked back on the year's accomplishments, weighing your feedback and reviews, and the result is a list of CARET Legal users' favorite updates and new features from 2022.
Client Texting
Surveys show that texting is more popular than ever and has much higher open and click-through rates than emails. With the client texting feature users can communicate with clients via text all within the CARET Legal platform without needing to jump between applications or devices. Whether sending a quick message or setting up an appointment, the new in-app, two-way SMS messaging system provides another way for you to efficiently manage important communication while providing a superior client experience.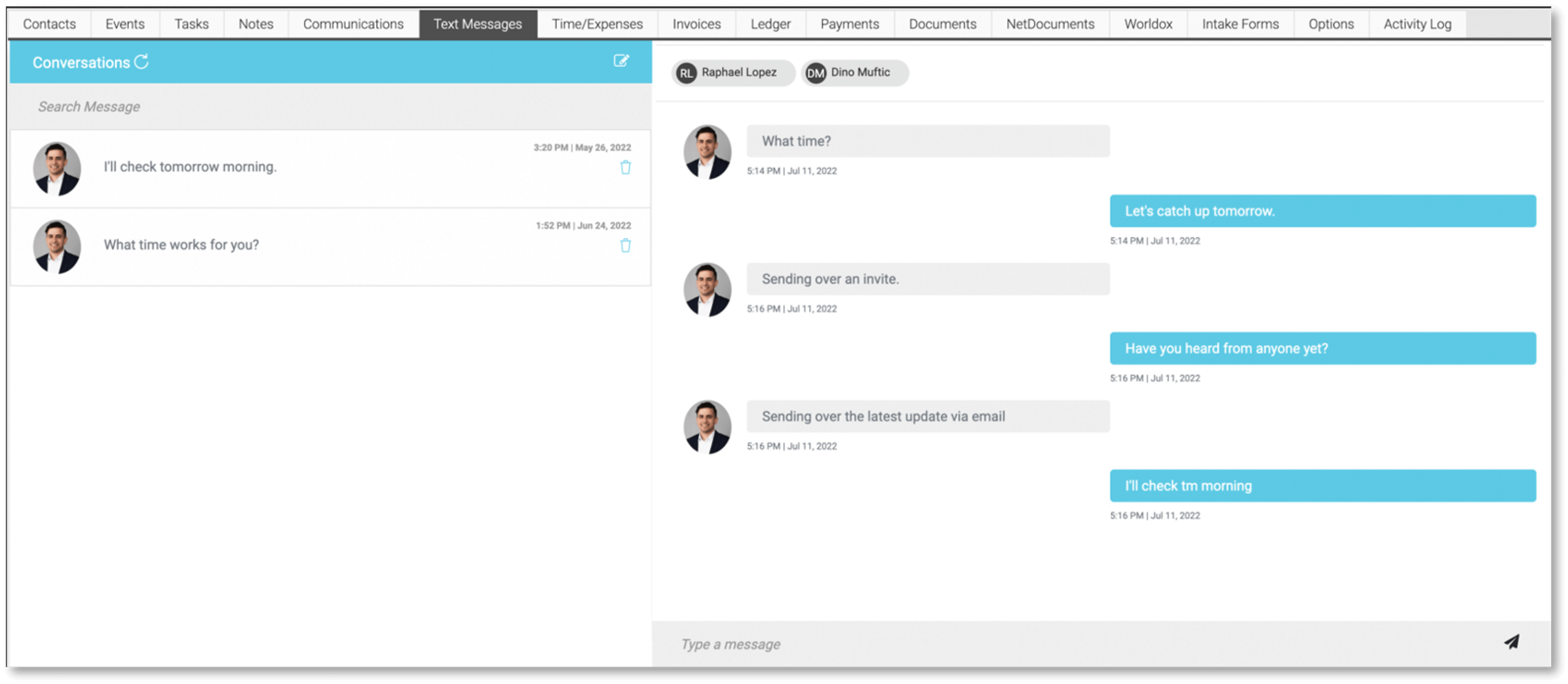 Sub-Accounting
Our users can now subdivide accounts for more detailed reporting and easier aggregation. Subdivided accounts appear under the name you've given them and the parent account you've assigned them to. You will be able to view their individual balances as well as totals for the parent account, making reporting a breeze.
APX Disbursement Report
Clients can now access reports that combine payment information from both CARET Legal and the APX platform (which processes online credit card and ACH payments). This report provides the status of payments and a detailed breakdown of all distributions to help clients stay on top of their receivables.
Reporting Enhancements
Accounts receivable reports can be produced to show unpaid invoices by client, matter and level of delinquency. All payments and tasks are also linked to the relevant client and matter for more efficient tracking, financial reconciliations and planning purposes.
Email Improvements
Make filing email correspondence easier than ever with our new improvements. Our platform now automatically detects emails from contacts based on the pertinent matter, saves the documents to a matter file and even converts them to specific tasks. Our email system also offers encryption, court-admissible proof of delivery and electronic signatures.
Contact Cloning
We make it easy to add multiple contacts that have the same information to save you time and effort. While some platforms require you to manually copy and paste the contact details, CARET Legal clones the existing contact and then allows you to make any tweaks necessary.
Batch Check Printing
Save even more time with batch check printing. Rather than printing checks one by one, you can select a group of checks and print them all at the same time. You will be able to select the bank account and date range of the ones you wish to print, giving office staff precise control with an easier than ever process.
Test drive CARET Legal today – get hands-on with a free trial.
Do you prefer a guided tour? Schedule a personal demo today.